Raspberry Ripple by Sarah Wilson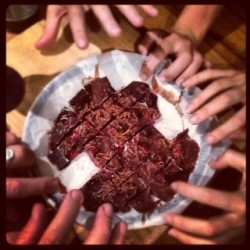 Author:
Sarah Wilson I Quit Sugar
⅓- 1/2 cup coconut oil
⅓ cup organic salted butter (be sure to use salted…the saltiness gives it a lovely kick)
2 tbls raw cacao, or cocoa
1 tbls rice malt syrup
⅓ cup coconut, shredded or flakes (for a chunkier version)
⅓ cup of frozen raspberries
Melt the butter and oil (in a pan or microwave…the oil takes longer to melt so add the butter a little after).
Stir in the cacao and syrup.
Arrange the berries and coconut on a sheet of baking paper on a baking tray or plate (a dinner plate is ideal – the slight indent creates a good shape).
Pour the coconut oil mixture over the top and pop in the freezer.
When firm either break into shards or cut into wedges.
Recipe by
Coconut Oil Post
at https://coconutoilpost.com/special-diets/candida/candida-diet/raspberry-ripple-by-sarah-wilson/