Chocolate Sandwich Cookie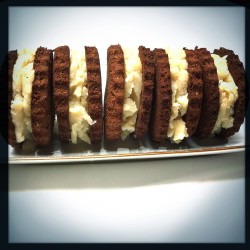 75 grams butter
1½ tsp Vanilla Extract or Coconut Nectar Syrup
⅓ cup Xylitol
¼ tsp Stevia
3 eggs
1¾ cups Almond Flour or 1 cup Almond meal and ¾ cup coconut flour
2 tsps Baking Powder
1 tsp sea salt
½ cup coconut cream concentrate
1 cup coconut milk
¼ cup extra coconut milk
6 tbls cocoa or raw cacao powder
Coconut cream filling:
¾ cup of coconut cream concentrate
1-2 tablespoons coconut oil, melted
½ cup coconut milk
10 drops liquid stevia or ¼ teaspoon powdered stevia
2 to 4 tbsp coconut flour, sifted.
Make sure all (eggs, butter, coconut milk, coconut cream concentrate)ingredients are at room temperature.
The coconut cream concentrate should not be melted but spreadable. If it is solid, immerse jar in very hot water or simmer gently on stovetop.
Preheat oven to 180 degrees C or 375 degrees F.
Grease and line a cookie tray with baking paper.
Beat butter, vanilla and Xylitol in a small bowl with electric beaters until light and fluffy.
Add eggs one at a time until beaten through.
In another bowl, whisk coconut cream concentrate, coconut milk and stevia until well combined.
Combine coconut cream concentrate mixture with egg mixture and stir.
Combine almond flour, coconut flour (if using), baking powder and salt.
Add the Almond flour mix to the wet ingredients and stir until combined.
If mixture looks a little dry add more coconut milk. It should be a dough consistency.
Gather dough up, place it on a large sheet of cling wrap and form a log shape about 6 cm in diameter. If you want to use a cookie cutter, omit forming it into a log shape.
Freeze for up to an hour or until solid.
Take out of freezer and slice into cookies. If you want to cut with a cookie cutter place the solid dough between two sheets of cling wrap or baking paper and roll out and cut with biscuit or cookie cutters. Place on tray.
Bake for 20 minutes or until brown and edges have started to darken.
Place on cooling racks and leave until completely cold before filling them with the coconut cream.
Coconut Cream Filling:
Blend the coconut cream concentrate, coconut milk, coconut oil and stevia until you get a strong icing/frosting consistency.
If needed add the coconut flour slowly to achieve the thickness needed.
Taste for sweetness and adjust using stevia.
Place in fridge to cool and thicken slightly.
When cookies are cold, spread filling on 1 cookie and place another on top and push slightly to smooth the filling between the 2 cookies.
These cookies will not completely harden, they will still be soft but will hold shape well.
Recipe by
Coconut Oil Post
at https://coconutoilpost.com/gluten-free-recipes/more-easter-treats/